Affordable Accountant for Roofing Services: Your Partner in Financial Success
Are you looking for an affordable accountant to manage your roofing services company's finances effectively? Look no further than Accountants4Less! With our expertise in providing comprehensive accounting solutions for the roofing industry, we offer affordable packages starting at just £45 per month. Our services are tailored to meet the unique needs of Roofing Services Limited Companies, ensuring financial compliance and peace of mind. In this article, we will explore the benefits of choosing an affordable accountant for roofing services, focusing on the expertise of Accountants4Less.
1. Introduction: The Importance of Accounting for Roofing Services
Running a successful roofing services company requires more than just exceptional craftsmanship. It also involves efficient financial management to ensure profitability and long-term growth. Accounting plays a vital role in monitoring the financial health of your business, tracking income and expenses, and complying with tax regulations. By partnering with an affordable accountant specializing in roofing services, you can focus on what you do best while leaving the financial complexities in capable hands.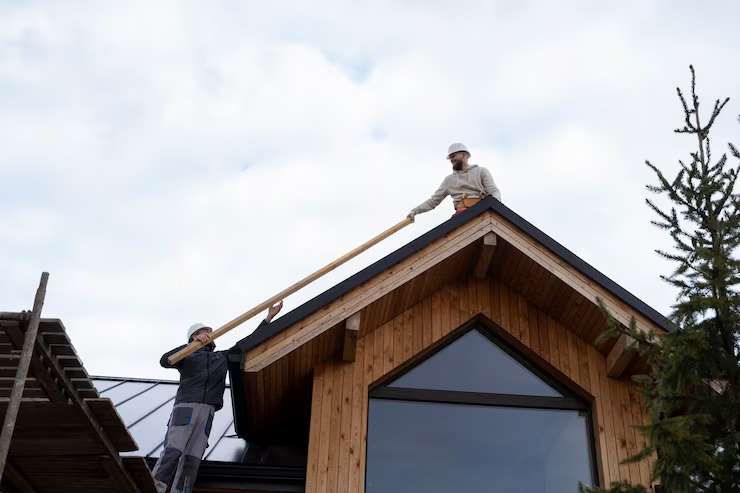 2. Affordable Accountants: Why Accountants4Less?
Accountants4Less understands the unique challenges that roofing services companies face. We specialize in providing cost-effective accounting solutions tailored to the needs of the roofing industry. Our team of highly skilled accountants has in-depth knowledge and experience in handling the financial intricacies of roofing businesses. With Accountants4Less, you can expect:
Dedicated accounting professionals with expertise in the roofing industry
Affordable packages designed to meet the specific needs of Roofing Services Limited Companies
Personalized attention and proactive support to address your financial concerns
Timely and accurate financial reporting to make informed business decisions
Streamlined processes and advanced software to simplify bookkeeping tasks
3. The Complete Package for Roofing Services Limited Companies
At Accountants4Less, we offer a comprehensive package tailored to meet the accounting requirements of Roofing Services Limited Companies. Our complete package, priced at just £45 per month, includes the following essential services:
Preparation and filing of statutory accounts with Companies House and HMRC
Completion and filing of Corporate Tax (CT600) return with HMRC
Self-assessment returns for one director
Fixed monthly payroll for one director, inclusive of VAT returns
With our complete package, you can have peace of mind knowing that your accounting needs are taken care of, allowing you to focus on growing your roofing services business.
4. Streamlining Financial Processes for Roofing Businesses
Accountants4Less utilizes advanced accounting software to streamline financial processes for roofing businesses. By leveraging cloud-based solutions, we can automate tasks such as bookkeeping, invoicing, and expense tracking. This automation not only saves time but also minimizes errors and ensures accurate financial records. Our team will guide you through the setup and implementation of these software solutions, empowering you with real-time financial insights to make informed business decisions.
5. Expert Tax Planning and Compliance
Navigating the complex landscape of tax regulations can be overwhelming for roofing services companies. Accountants4Less specializes in tax planning and compliance for the roofing industry, helping you optimize your tax strategy and minimize liabilities. Our knowledgeable accountants stay up-to-date with the latest tax laws and leverage their expertise to identify potential deductions and credits specific to your business. With Accountants4Less, you can rest assured that your tax obligations are met efficiently and accurately.
6. Maximizing Profitability Through Financial Analysis
Understanding your roofing services company's financial performance is crucial for maximizing profitability. Accountants4Less goes beyond basic bookkeeping and provides comprehensive financial analysis services. By examining key financial indicators and trends, we can identify opportunities for cost reduction, revenue enhancement, and improved cash flow management. Our insightful reports and expert guidance will empower you to make data-driven decisions that drive your business forward.
7. Why Choose Accountants4Less for Roofing Services?
When it comes to choosing an accountant for your roofing services company, affordability, expertise, and personalized service matter. Accountants4Less checks all these boxes and more. Here's why you should choose us:
Affordable packages designed specifically for Roofing Services Limited Companies
Extensive experience in the roofing industry, ensuring a deep understanding of your business
Proactive support and personalized attention from dedicated accounting professionals
Advanced accounting software to streamline financial processes and improve efficiency
Expert tax planning and compliance services tailored to the roofing industry
With Accountants4Less, you gain a trusted partner committed to your financial success.
8. The Affordable Accountant for Roofing Services: Pricing Details
Accountants4Less offers transparent and competitive pricing for its accounting services for roofing services companies. Our affordable packages start at just £45 per month for Roofing Services Limited Companies. This cost-effective pricing ensures that you receive high-quality accounting services without breaking the bank. Contact us today to discuss your specific needs and receive a detailed quote tailored to your requirements.
9. Testimonials: Satisfied Clients of Accountants4Less
"I have been with Accountants4Less for two years now, and they have been a game-changer for my roofing services business. Their affordable pricing, attention to detail, and personalized service have made a significant difference in managing my finances. I highly recommend them." – John Smith, Roofing Services Company Owner
"Accountants4Less understands the roofing industry inside out. They have helped me streamline my financial processes, optimize my tax strategy, and provided invaluable insights to improve profitability. I couldn't ask for a better accounting partner." – Sarah Johnson, Roofing Services Limited Company Director
10. Frequently Asked Questions (FAQs)
Q: Is Accountants4Less suitable for small roofing services companies? Yes, absolutely! Accountants4Less specializes in serving roofing services companies of all sizes. Our affordable packages and personalized service make us an ideal accounting partner for small and medium-sized enterprises.
Q: How can I get started with Accountants4Less? Getting started with Accountants4Less is easy. Simply visit our website or give us a call, and our friendly team will guide you through the onboarding process. We will assess your requirements, recommend the most suitable package, and ensure a seamless transition.
Q: Can Accountants4Less help with my annual tax filings? Yes, we can! Accountants4Less provides comprehensive tax planning and compliance services, including annual tax filings. Our experienced accountants will ensure that your tax returns are prepared accurately and submitted on time.
Q: What if I need additional services not included in the complete package? Accountants4Less offers flexible options to cater to your specific needs. If you require additional services beyond the complete package, we can customize a solution for you. Contact us to discuss your requirements and receive a tailored quote.
Q: Does Accountants4Less offer ongoing support and advice? Absolutely! Accountants4Less is committed to providing ongoing support and expert advice to our clients. Our dedicated accounting professionals are available to answer your questions, offer guidance, and address any concerns you may have.
11. Conclusion
In the competitive world of roofing services, having an affordable and reliable accountant by your side can make a significant difference. Accountants4Less understands the unique financial challenges faced by roofing services companies and offers tailored accounting solutions at an affordable price. With our expertise, comprehensive packages, and personalized service, we are your partner in achieving financial success. Contact Accountants4Less today to get started on your journey toward financial stability and growth.